WAKEMAKE Soft Blurring Eye Palette High Pink Blurring 09 14g
This product delivers pink catharsis to cool-toned people this summer.
Soft Blurring Eyeshadow Palette with a more fresh look with a tone-specific, sturdy color spectrum.
Awaken your own personal color by adding more delicate brightness and saturation.
This is a delicate color match product that considers step-by-step brightness and saturation based on personal color.
With slimmed-down sizes, add portability and complete my perfect personal color anytime, anywhere.
Featured ingredients
Adding wet and baked types to the general powder-type glitter delivers a uniquely colorful sparkling effect.
Colors
Vanilla Blurring 01: Soft vanilla shade
Lively Blurring 02: Lively rosy shade
Sunset Blurring 03: Peachy coral mood
Lavender Blurring 04: Summer-cool tone shades
Muted Coral Blurring 05: Warm pink brown shade
Cocoa Blurring 06: Winter pink brown shade
Soda Coral Blurring 07: Cool peach coral color
Candy Coral Blurring 08: Cool peach coral color
High Pink Blurring 09: Winter cool tone makeup completed with energetic and lively pink, from baby pink to magenta pink.
Lazy Pink Blurring 10: A cool summer cool-mute makeup completed with a laid-back and comfortable mute pink.
How to use
Apply it on the eye area using your fingertips or brush.
* You can turn on subtitles by clicking the CC icon at the bottom of a YouTube video and the introduction of the product starts at 01:20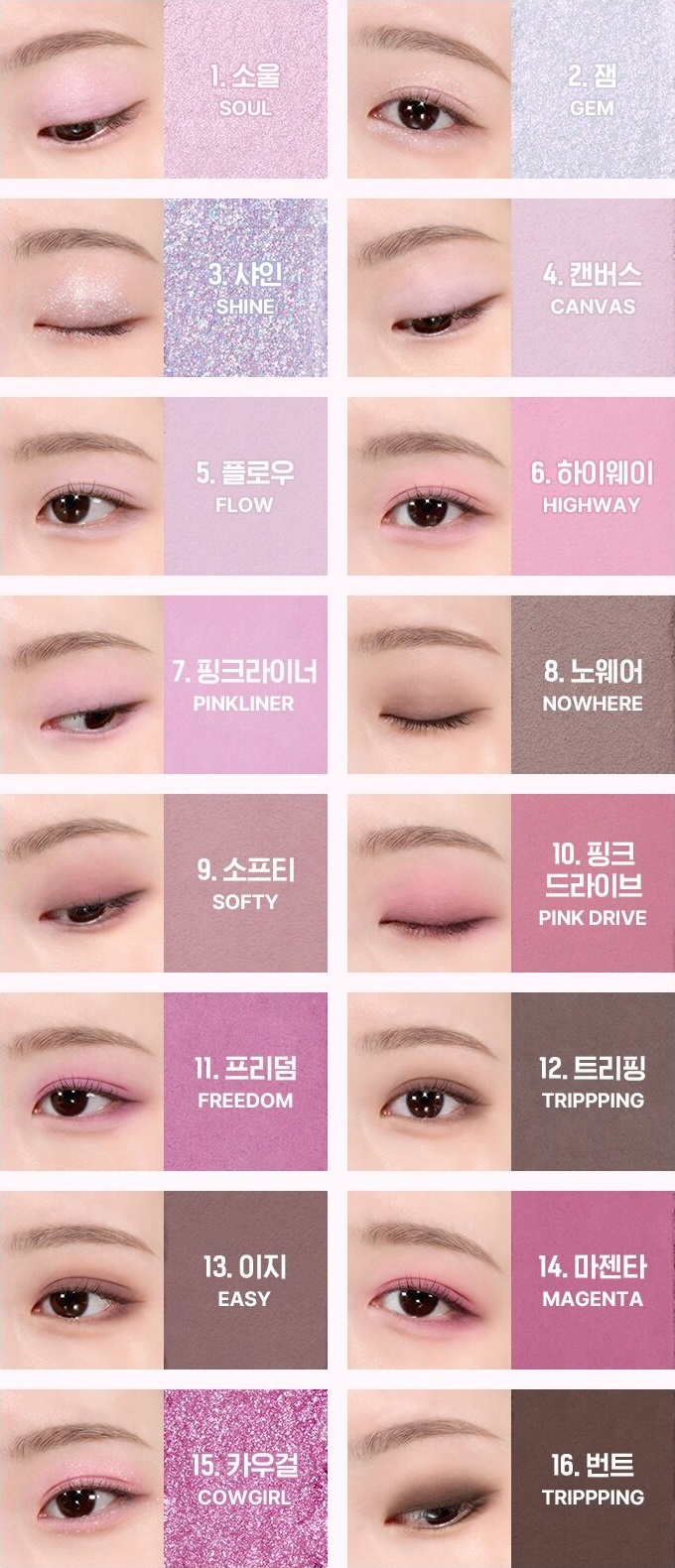 Ingredients
High Pink Blurring 09
[SOUL] Mica (CI 77019), Talc, Titanium Dioxide (CI 77891), Octyldodecyl Stearoyl Stearate, Synthetic Fluorphlogopite, Calcium Titanium Borosilicate, Magnesium Myristate, Nylon-12, Silica, Dimethicone, Bis-Diglyceryl Polyacyladipate-2, Cetyl Dimethicone, Magnesium Stearate, Shorea Robusta Seed Butter, Methylpropanediol, Propanediol, Triethoxycaprylylsilane, Caprylic/Capric Triglyceride, Methicone, Maltodextrin, Kaolin, Tin Oxide (CI 77861), Carmine, Ultra Marine (CI 77007), Manganese Violet (CI 77742), Iron Oxide Black (CI 77499), Iron Oxide Yellow (CI 77492), Iron Oxide Red (CI 77491)
[GEM] Dimethicone, Synthetic Fluorphlogopite, Calcium Aluminum Borosilicate, Calcium Titanium Borosilicate, Methyl Methacrylate Crosspolymer, Neopentyl Glycol Diethylhexanoate, Titanium Dioxide (CI 77891), Hexyl Laurate, Nylon-12, Dimethicone/Vinyl Dimethicone Crosspolymer, Silica, Diglyceryl Sebacate/Isopalmitate, Sorbitan Sesquiisostearate, Dipentaerythrityl Hexahydroxystearate/Hexastearate/Hexarosinate, Magnesium Myristate, Propanediol, Synthetic Wax, Tocopherol, Tin Oxide (CI 77861), Phenoxyethanol
[SHINE] Polyethylene Terephthalate, Bis-Diglyceryl Polyacyladipate-2, Calcium Aluminum Borosilicate, Polybutylene Terephthalate, Polypropylene, Polyglyceryl-2 Triisostearate, Acrylates Copolymer, Ethylene/VA Copolymer, Silica, Titanium Dioxide (CI 77891), Magnesium Stearate, Magnesium Myristate, Methylpropanediol, Diphenylsiloxy Phenyl Trimethicone, Propanediol, Bis-Behenyl/Isostearyl/Phytosteryl Dimer Dilinoleyl Dimer Dilinoleate, Synthetic Fluorphlogopite, Phytosteryl/Isostearyl/Cetyl/Stearyl/Behenyl Dimer Dilinoleate, Diisostearyl Malate, Tin Oxide (CI 77861), Mica (CI 77019), Carmine (CI 75470), Ferric Ferrocyanide (CI 77510)
[CANVAS] Talc, Mica (CI 77019), Titanium Dioxide (CI 77891), Silica, Manganese Violet (CI 77742), Phenyl Trimethicone, Octyldodecyl Stearoyl Stearate, Octyldodecanol, Dimethicone, Macadamia Ternifolia Seed Oil, Magnesium Myristate, Methylpropanediol, Dipentaerythrityl Hexahydroxystearate/Hexastearate/Hexarosinate, Magnesium Stearate, Propanediol, Diisostearyl Malate, Dimethiconol Stearate, Triethoxycaprylylsilane, Aluminum Hydroxide, Hydrogenated Lecithin, Methicone, Kaolin, Maltodextrin, Iron Oxide Red (CI 77491), Ultra Marine (CI 77007), Helindone Pink CN (CI 73360), Carmine (CI 75470), Iron Oxide Black (CI 77499), Iron Oxide Yellow (CI 77492)
[FLOW] Talc, Mica (CI 77019), Silica, Manganese Violet (CI 77742), Titanium Dioxide (CI 77891), Octyldodecyl Stearoyl Stearate, Phenyl Trimethicone, Macadamia Ternifolia Seed Oil, Magnesium Myristate, Methylpropanediol, Dipentaerythrityl Hexahydroxystearate/Hexastearate/Hexarosinate, Diisostearyl Malate, Dimethiconol Stearate, Magnesium Stearate, Propanediol, Dimethicone, Triethoxycaprylylsilane, Caprylic/Capric Triglyceride, Hydrogenated Lecithin, Methicone, Kaolin, Nylon-12, Aluminum Hydroxide, Maltodextrin, Ultra Marine (CI 77007), Iron Oxide Red (CI 77491), Iron Oxide Yellow (CI 77492), Carmine (CI 75470), Iron Oxide Black (CI 77499)
[HIGHWAY] Talc, Synthetic Fluorphlogopite, Mica (CI 77019), Silica, Titanium Dioxide (CI 77891), Caprylic/Capric Triglyceride, Magnesium Myristate, Magnesium Stearate, Macadamia Ternifolia Seed Oil, Methylpropanediol, Dimethicone, Aluminum Dimyristate, Propanediol, Triethoxycaprylylsilane, Aluminum Hydroxide, Nylon-12, Maltodextrin, Methicone, Carmine (CI 75470), Ultra Marine (CI 77007), Iron Oxide Red (CI 77491), Iron Oxide Black (CI 77499), Iron Oxide Yellow (CI 77492)
[PINKLINER] Talc, Mica (CI 77019), Titanium Dioxide (CI 77891), Synthetic Fluorphlogopite, Boron Nitride, Silica, Octyldodecanol, Octyldodecyl Stearoyl Stearate, Phenyl Trimethicone, Dimethicone, Macadamia Ternifolia Seed Oil, Methylpropanediol, Dipentaerythrityl Hexahydroxystearate/Hexastearate/Hexarosinate, Magnesium Myristate, Propanediol, Diisostearyl Malate, Aluminum Hydroxide, Triethoxycaprylylsilane, Magnesium Stearate, Lauroyl Lysine, Kaolin, Maltodextrin, Ultra Marine (CI 77007), Helindone Pink CN (CI 73360), Brilliant Blue FCF (CI 42090), Manganese Violet (CI 77742), Carmine, Iron Oxide Black (CI 77499), Iron Oxide Yellow (CI 77492), Tartrazine (CI 19140), Iron Oxide Red (CI 77491)
[NOWHERE] Mica (CI 77019), Talc, Silica, Manganese Violet (CI 77742), Titanium Dioxide (CI 77891), Ultra Marine (CI 77007), Octyldodecyl Stearoyl Stearate, Phenyl Trimethicone, Magnesium Myristate, Octyldodecanol, Iron Oxide Black (CI 77499), Methylpropanediol, Caprylic/Capric Triglyceride, Dipentaerythrityl Hexahydroxystearate/Hexastearate/Hexarosinate, Magnesium Stearate, Propanediol, Diisostearyl Malate, Dimethiconol Stearate, Methicone, Dimethicone, Lauroyl Lysine, Kaolin, Triethoxycaprylylsilane, Aluminum Hydroxide, Maltodextrin, Iron Oxide Red (CI 77491), Iron Oxide Yellow (CI 77492), Carmine (CI 75470)
[SOFTY] Talc, Mica (CI 77019), Manganese Violet (CI 77742), Caprylic/Capric Triglyceride, Silica, Titanium Dioxide (CI 77891), Magnesium Myristate, Ultra Marine (CI 77007), Macadamia Ternifolia Seed Oil, Methylpropanediol, Dimethicone, Octyldodecyl Stearoyl Stearate, Phenyl Trimethicone, Propanediol, Triethoxycaprylylsilane, Magnesium Stearate, Dipentaerythrityl Hexahydroxystearate/Hexastearate/Hexarosinate, Kaolin, Diisostearyl Malate, Hydroxypropyl Bispalmitamide MEA, Aluminum Hydroxide, Methicone, Iron Oxide Red (CI 77491), Iron Oxide Black (CI 77499), Iron Oxide Yellow (CI 77492), Helindone Pink CN (CI 73360),
[PINK DRIVE] Talc, Mica (CI 77019), Titanium Dioxide (CI 77891), Silica, Octyldodecyl Stearoyl Stearate, Phenyl Trimethicone, Nylon-12, Helindone Pink CN (CI 73360), Macadamia Ternifolia Seed Oil, Magnesium Myristate, Methylpropanediol, Dimethicone, Magnesium Stearate, Propanediol, Triethoxycaprylylsilane, Aluminum Hydroxide, Lauroyl Lysine, Maltodextrin, Kaolin, Ultra Marine (CI 77007), Iron Oxide Black (CI 77499), Iron Oxide Yellow (CI 77492), Tartrazine (CI 19140), Iron Oxide Red (CI 77491), Carmine (CI 75470), Manganese Violet (CI 77742)
[FREEDOM] Talc, Mica (CI 77019), Synthetic Fluorphlogopite, Boron Nitride, Silica, Titanium Dioxide (CI 77891), Octyldodecanol, Phenyl Trimethicone, Octyldodecyl Stearoyl Stearate, Ultra Marine (CI 77007), Macadamia Ternifolia Seed Oil, Methylpropanediol, Dimethicone, Dipentaerythrityl Hexahydroxystearate/Hexastearate/Hexarosinate, Magnesium Myristate, Magnesium Stearate, Propanediol, Diisostearyl Malate, Lauroyl Lysine, Triethoxycaprylylsilane, Aluminum Hydroxide, Methicone, Kaolin, Maltodextrin, Helindone Pink CN (CI 73360), Brilliant Blue FCF (CI 42090), Carmine (CI 75470), Manganese Violet (CI 77742), Iron Oxide Black (CI 77499), Iron Oxide Yellow (CI 77492), Tartrazine (CI 19140), Iron Oxide Red (CI 77491)
[TRIPPING] Talc, Mica (CI 77019), Titanium Dioxide (CI 77891), Manganese Violet (CI 77742), Boron Nitride, Iron Oxide Black (CI 77499), Silica, Iron Oxide Yellow (CI 77492), Octyldodecyl Stearoyl Stearate, Phenyl Trimethicone, Iron Oxide Red (CI 77491), Ultra Marine (CI 77007), Dimethicone, Macadamia Ternifolia Seed Oil, Shorea Robusta Seed Butter, Methylpropanediol, Dipentaerythrityl Hexahydroxystearate/Hexastearate/Hexarosinate, Magnesium Myristate, Diisostearyl Malate, Magnesium Stearate, Propanediol, Kaolin, Triethoxycaprylylsilane, Aluminum Hydroxide, Lauroyl Lysine, Maltodextrin, Carmine (CI 75470), Helindone Pink CN (CI 73360),
[EASY] Talc, Mica (CI 77019), Manganese Violet (CI 77742), Silica, Ultra Marine (CI 77007), Iron Oxide Red (CI 77491), Iron Oxide Black (CI 77499), Octyldodecyl Stearoyl Stearate, Phenyl Trimethicone, Iron Oxide Yellow (CI 77492), Magnesium Myristate, Methylpropanediol, Nylon-12, Caprylic/Capric Triglyceride, Dipentaerythrityl Hexahydroxystearate/Hexastearate/Hexarosinate, Diisostearyl Malate, Magnesium Stearate, Propanediol, Dimethiconol Stearate, Kaolin, Triethoxycaprylylsilane, Dimethicone, Methicone, Hydrogenated Lecithin, Lauroyl Lysine, Maltodextrin, Aluminum Hydroxide, Titanium Dioxide (CI 77891), Carmine (CI 75470)
[MAGENTA] Mica (CI 77019), Talc, Titanium Dioxide (CI 77891), Carmine (CI 75470), Aluminum Starch Octenylsuccinate, Manganese Violet (CI 77742), Silica, Octyldodecyl Stearoyl Stearate, Phenyl Trimethicone, Magnesium Myristate, Dimethicone, Macadamia Ternifolia Seed Oil, Shorea Robusta Seed Butter, Methylpropanediol, Dipentaerythrityl Hexahydroxystearate/Hexastearate/Hexarosinate, Magnesium Stearate, Diisostearyl Malate, Aluminum Dimyristate, Propanediol, Maltodextrin, Triethoxycaprylylsilane, Aluminum Hydroxide, Hydrogenated Lecithin, Kaolin, Tin Oxide (CI 77861), Brilliant Blue FCF (CI 42090), Ultra Marine (CI 77007), Tartrazine (CI 19140), Iron Oxide Black (CI 77499), Iron Oxide Yellow (CI 77492), Iron Oxide Red (CI 77491)
[COWGIRL] Dimethicone, Synthetic Fluorphlogopite, Methyl Methacrylate Crosspolymer, Calcium Aluminum Borosilicate, Calcium Titanium Borosilicate, Titanium Dioxide (CI 77891), Mica (CI 77019), Neopentyl Glycol Diethylhexanoate, Nylon-12, Hexyl Laurate, Dimethicone/Vinyl Dimethicone Crosspolymer, Diglyceryl Sebacate/Isopalmitate, Sorbitan Sesquiisostearate, Silica, Magnesium Myristate, Dipentaerythrityl Hexahydroxystearate/Hexastearate/Hexarosinate, Synthetic Wax, Propanediol, Tocopherol, Tin Oxide (CI 77861), Phenoxyethanol, Helindone Pink CN (CI 73360), Ultra Marine (CI 77007), Iron Oxide Black (CI 77499)
[Burnt] Mica (CI 77019), Iron Oxide Black (CI 77499), Talc, Iron Oxide Red (CI 77491), Iron Oxide Yellow (CI 77492), Silica, Titanium Dioxide (CI 77891), Octyldodecyl Stearoyl Stearate, Phenyl Trimethicone, Methylpropanediol, Octyldodecanol, Caprylic/Capric Triglyceride, Magnesium Myristate, Methicone, Propanediol, Dipentaerythrityl Hexahydroxystearate/Hexastearate/Hexarosinate, Diisostearyl Malate, Triethoxycaprylylsilane, Hydrogenated Lecithin, Magnesium Stearate, Dimethiconol Stearate, Dimethicone, Aluminum Hydroxide, Maltodextrin, Kaolin, Carmine (CI 75470), Manganese Violet (CI 77742), Ultra Marine (CI 77007)