AMPLE N Centel Calming Shot Ampoule 100ml
Description
Contains a rich bottle of stem cell culture fluid which are the active ingredients of Centella Asiatica extract.
Patented Soru-Ji, the Bamboo Extract contains an ideal blend that moisturizes and calms the skin
This formula is not formulated with six ingredients, considering sensitive skin responding to small irritation depending on skin condition.
Contains Centel stem cell culture fluid
Calming recipe for calming effect on your skin
Safe prescription, No 6 ingredients – Paraben. Benzophenone, Clofenesin, Artificial colors Synthetic Pigment, Artificial incense Synthetic incense, Ethanol
Texture
Transparent and clear Essential ampoule texture
A refreshing light texture that is rich in moisture and soothes sensitive skin
Key Ingredients
Centella Asiatica
Centella stem cell fluid 2,500ppm
Centella Stem Cell Culture Fluid' soothing prescription
Centella is a truly active ingredient found in nature
Rumex Crispus Extract
Alleviating skin irritation containing Sorousumextract as an active ingredient
Abundant moisturizing effect booms the soothing effect
Bamboo Extract
Affecting the biosynthesis of aquaporin 3 and moisturizes the skin
Patented Rumex crispusand bamboo extract are mixed in an ideal ratio to have the soothing skin
How to use
After using the toner, take an adequate amount and gently apply over the face for absorption.
* You can turn on subtitles by clicking the CC icon at the bottom of a YouTube video and the introduction of the product starts at 01:29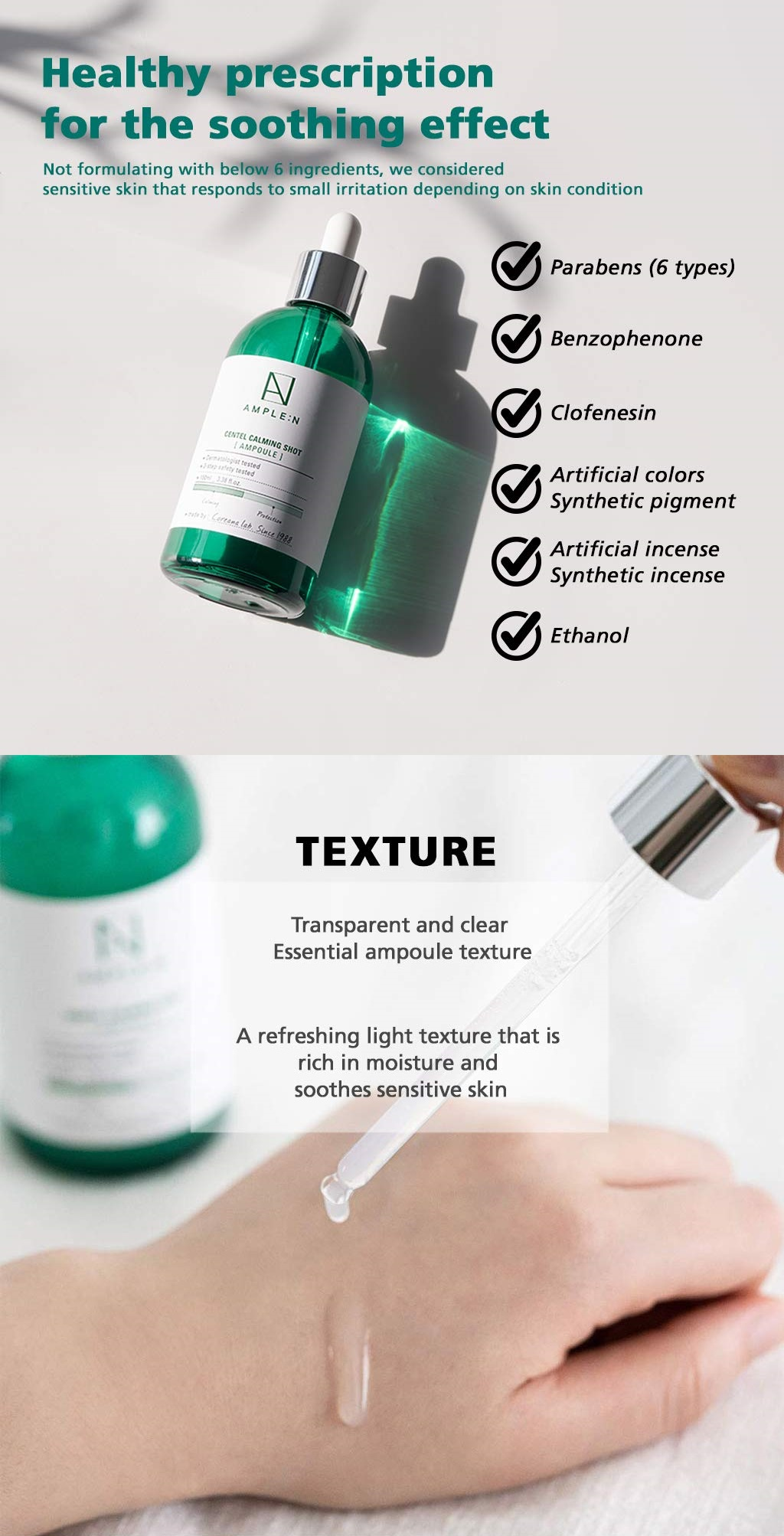 Ingredients
Water, Methylpropanediol, Arbutin, Mung bean seed extract, Arginine, Sodium Hyaluronate, Allantoin, Panthenol, Anthemis Nobilis Flower Water, Centella Asiatica Callus Culture, Glycine Max (Soybean) Seed Extract, Madecassoside, Dipotassium Glycyrrhizate, Phyllostachys Nigra Juice, Rumex Crispus Root Extract, Betula Alba Juice, Propanediol, Acrylates/C10-30 Alkyl Acrylate Crosspolymer, Caprylyl Glycol, Octyldodeceth-16, Hydroxyethylcellulose, Glycerine, 1,2-Hexanediol, Citric Acid, Butylene Glycol, Ethylhexylglycerin, Disodium EDTA, Prunus Persica (Peach) Fruit Extract, Malus Domestica Fruit Extract, Iris Florentina Root Extract, Ribes Nigrum (Black Currant) Leaf Extract, Rosa Damascena Flower Water, Pyrus Communis (Pear) Fruit Extract, Rubus Suavissimus (Raspberry) Leaf Extract, Vanilla Planifolia Fruit Extract * Centella Asiatica Callus Culture 500 ppm