TORRIDEN Balanceful Cica Soothing Cream 80ml
Description
The Balanceful Cica Soothing Cream provides dense moisture and effective soothing care.
According to the actual user reviews of Torriden employees, those with dry skin said that the firm gel cream texture wraps the skin smoothly, so it penetrates into the skin moistly and the moisturizing feeling lasts for a long time; those with oily skin also said it was perfect; and those with sensitive skin showed high satisfaction, saying that it was so good because it was not pushed by the comfortable soothing feeling without stinging or irritation, and that it was good for daily use because it was refreshing but deeply moisturizing and even balances the skin.
It has a calming effect on damaged skin, has low irritation on sensitive skin, and features soothing moisture adhesion.
It is a product for sensitive skin which easily grows irritated but cannot apply any product, and those with concerns about whether it is possible to provide comfort for the skin while soothing effectively every day.
Torriden focused on how to deliver ingredients effectively without irritation or stickiness for sensitive skin, and created a product that provides refreshing moisture and soothing without irritation.
As a product with a refreshing moisture gel texture created with Torridon's unique formulation technology, it is moisturizing and can be used without sticky discomfort, and it provides soothing and hydrating care to skin that grows sensitive with the turn of the seasons.
It has completed the sensitive skin irritation test in all four seasons, making stable soothing care possible.
It has completed a damaged skin soothing test for easily irritated skin, proving the effectiveness of the product by showing that the skin calming effect by chemical stimulation improved by 2.6 times and the soothing effect of skin redness by chemical stimulation improved by 23 times.
As a product with Torriden's soothing effect with a difference before and after use, it proved to effectively help calm and balance sensitive skin by completing a calming test on skin damaged by chemical stimulation.
The effect of Cica soothing cream has been verified through a 100% satisfaction rate in the satisfaction surveys: it helped to soothe irritated skin after use, it felt both moisturizing and soothing on the skin after use, it would be best used when the skin is sensitive, and the skin is calmed further when used with serum and cream.
The Balanceful Cica Soothing Cream helps with moisturizing and soothing care.
Since healthy skin is mildly acidic, The Balanceful Cica Soothing Cream helps maintain a healthy and comfortable skin environment by applying a mildly acidic formula similar to the pH of healthy skin.
This product has been made with the idea that your skin is another environment that we must protect.
It is reliable because it has completed the sensitive skin irritation test and the skin soothing test damaged by chemical stimulation.
Featured ingredients
Enjoy the unique smell of Cica and Teca raw materials, and it is safe to use as it does not contain artificial fragrances.
Containing the T-Percent Calming Complex™, the product cares for sensitive skin problems with zero irritation and stably delivers soothing components by adding T-TECA, which are smaller than the pores, to the patented calming ingredients.
The product contains just enough Torriden's unique 5D Complex Cica Complex, which has been carefully formulated to provide comfort for sensitive skin, with various skin troubles being soothed by five Cica components that are a careful blend of Torriden's patented soothing ingredients: T-Percent Calming Complex, asiatic acid, madecassic acid, asiaticoside, and madecassoside.
With a size of 1/10,000 of the average pore, the T-TECA component provides seamless soothing to irritated and sensitive skin.
T-TECA, which is smaller than pores, enables intensive soothing care.
Torriden's T-TECA Drop System envelops the key active ingredients needed for soothing, which are isatricoside, madecassic acid, and asiatic acid, delivering liposomalized T-TECA to the skin for seamless and effective soothing care.
For the healthy sustainability of all, Torriden is leading an eco-friendly life for everyone by applying FSC-approved 100% recycled paper, printing with soybean oil, using transparent containers that increase recycling rates, and using labels that separate when in contact with water.
The 5D Complex Cica helps with soothing, hydrolyzed hyaluronic acid helps with moisture, and panthenol helps with both moisturizing and calming.
How to use
After arranging the skin texture, apply evenly to the area that needs soothing and pat to let it absorb.
Calm sensitive areas of the skin by applying an ample amount onto the troubled area.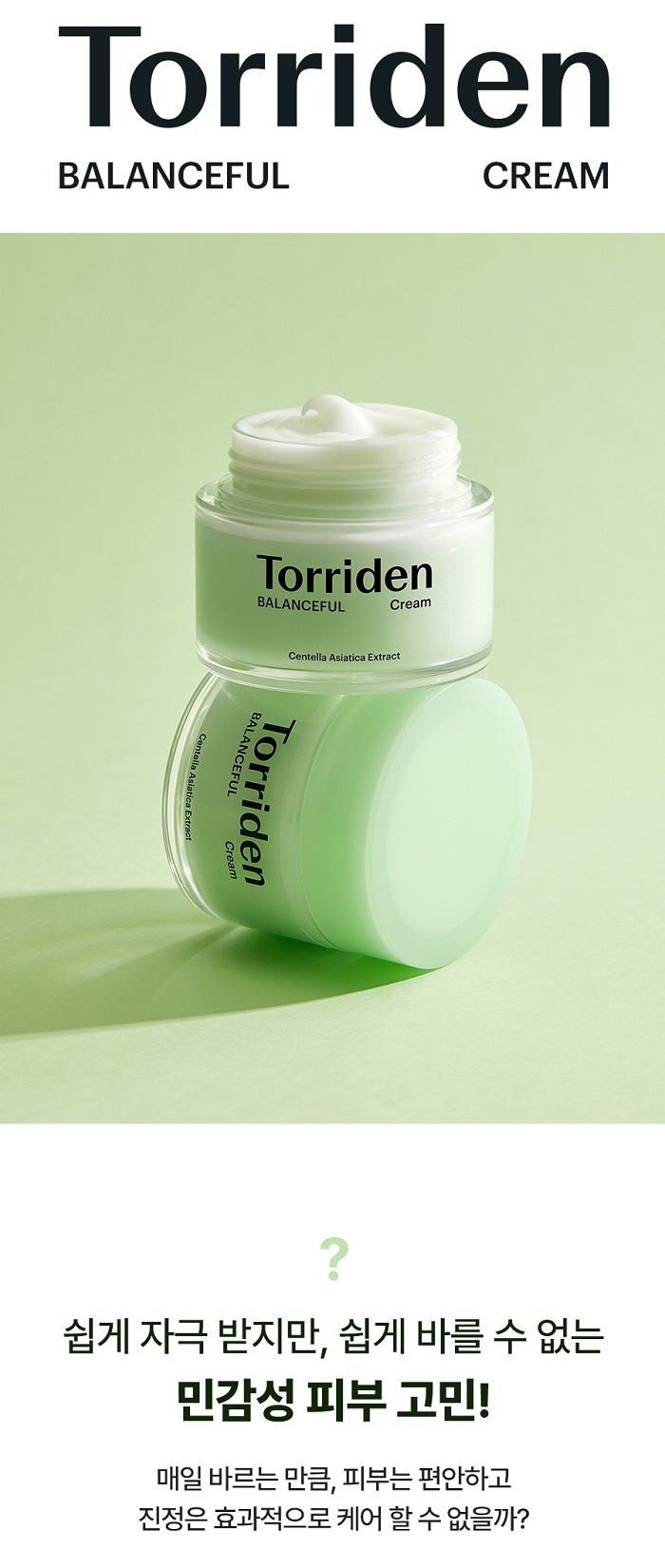 Ingredients
Water, Butylene Glycol, Glycerin, 1,2-Hexanediol, Hydrogenated Didecene, Allantoin, Trehalose, Hamamelis Virginiana (Witch Hazel) Extract, Panthenol, Hydrolyzed Hyaluronic Acid, Sodium Hyaluronate, Sodium Hyaluronate Crosspolymer, Sodium Acetylated Hyaluronate, Hydrolyzed Sodium Hyaluronate, Glyceryl Acrylate/Acrylic Acid Copolymer, PVM/MA Copolymer, Hydroxyethyl Acrylate/Sodium Acryloyldimethyl Taurate Copolymer, 2,3-Butanediol, Cetearyl Alcohol, C14-22 Alcohols, C12-20 Alkyl Glucoside, Pentylene Glycol, Sorbitan Isostearate, Caprylic/Capric Triglyceride, Melia Azadirachta Leaf Extract, Melia Azadirachta Flower Extract, Coccinia Indica Fruit Extract, Solanum Melongena (Eggplant) Fruit Extract, Ocimum Sanctum Leaf Extract, Curcuma Longa (Turmeric) Root Extract, Corallina Officinalis Extract, Salvia Sclarea (Clary) Extract, Lavandula Angustifolia (Lavender) Flower Extract, Hyacinthus Orientalis (Hyacinth) Extract, Chamomilla Recutita (Matricaria) Flower Extract, Centaurea Cyanus Flower Extract, Borago Officinalis Extract, Disodium EDTA, Carbomer, Tromethamine, Xanthan Gum, Glutathione, Malachite Extract, Ethylhexylglycerin