NATURE REPUBLIC Color Blossom New Mood Eye Palette Mild Cream 02 8g
Description
A series of an eyeshadow palette that features 10 shades in different finishes.
The pigment can be spread smoothly and evenly.
Creates from daytime soft and sweet, to an after-dark rich and smoky look.
A eye shadow palette with pure and creamy nude shades.
Shade Composition
1) Mild Cotton
2) Bluring Pink
3) Custard
4) Milk Coconut
5) Afternoon Tea
6) Toffee nut
7) Dust Latte
8) Pancake
9) Haze Berry
10) Vanilla Bean
How to use
Take an appropriate amount with a brush or a hand and naturally apply.
* You can turn on subtitles by clicking the CC icon at the bottom of a YouTube video and the introduction of the product starts at 00:03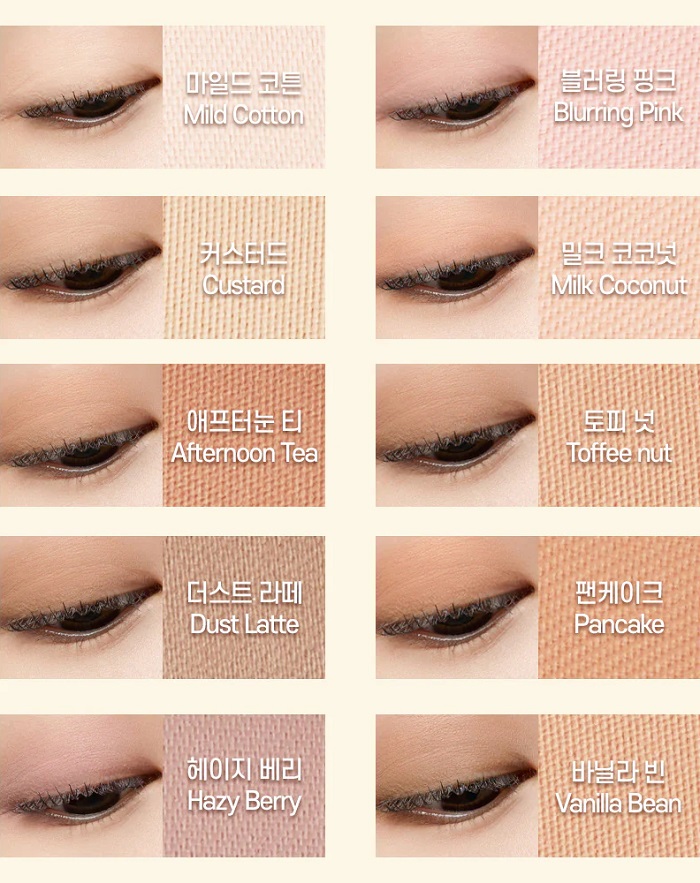 Ingredients
#Melody Garden Polyethylene Terephthalate, Bis-Diglyceryl Polyacyladipate-2, Polybutylene Terephthalate, Acrylates Copolymer, Calcium Titanium Borosilicate, Polyglyceryl-2 Triisostearate, Ethylene/VA Copolymer, Titanium Dioxide (CI 77891), Calcium Aluminum Borosilicate, Magnesium Stearate, Methyl Propanediol, Propanediol, Purified Water, Tin Oxide (CI 77861), Mica (CI 77019), Carmine (CI 75470), Iron Oxide Red (CI 77491) #Blooming Shine Dimethicone, Synthetic Fluorphlogopite, Calcium Aluminum Borosilicate, Calcium Sodium Borosilicate, Calcium Titanium Borosilicate, Methyl Methacrylate Crosspolymer, Titanium Dioxide (CI 77891), Neopentyl Glycol Diheptanoate, Hexyl Laurate, Nylon-12, Dimethicone/Vinyl Dimethicone Crosspolymer, Diglyceryl Sebacate/Isopalmitate, Sorbitan Sesquiisostearate, Silica, Dipentaerythrityl Hexahydroxystearate/Hexastearate/Hexarosinate, Magnesium Myristate, Propanediol, Synthetic Wax, Maltodextrin, Tin Oxide (CI 77861), Phenoxyethanol, Mica (CI 77019), Iron Oxide Red (CI 77491), Carmine (CI 75470), Ultramarines (CI 77007) #Magenta Picnic Talc, Synthetic Fluorphlogopite, Ultramarines (CI 77007), Manganese Violet (CI 77742), Silica, Titanium Dioxide (CI 77891), Polymethylsilsesquioxane, Neopentyl Glycol Diheptanoate, Phenyl Trimethicone, Macadamia Ternifolia Seed Oil, Shorea Robusta Seed Butter, Methyl Propanediol, Dipentaerythrityl Hexahydroxystearate/Hexastearate/Hexarosinate, Kaolin, Magnesium Myristate, Dimethicone, Diisostearyl Malate, Isostearyl Neopentanoate, Octyldodecyl Stearoyl Stearate, Dimethiconol Stearate, Propanediol, Polybutene, Purified Water, Iron Oxide Yellow, (CI 77492), Helindone Pink CN (CI 73360), Iron Oxide Red (CI 77491), Iron Oxide Black (CI 77499) #Pink Layer Talc, Mica (CI 77019), Calcium Sodium Borosilicate, Titanium Dioxide (CI 77891), Boron Nitride, Silica, Neopentyl Glycol Diheptanoate, Phenyl Trimethicone, Dimethicone, Magnesium Myristate, Methyl Propanediol, Dipentaerythrityl Hexahydroxystearate/Hexastearate/Hexarosinate, Diisostearyl Malate, Isostearyl Neopentanoate, Octyldodecyl Stearoyl Stearate, Magnesium Stearate, Propanediol, Triethoxycaprylylsilane, Polybutene, Hydrogenated Lecithin, Aluminum Hydroxide, Methicone, Purified Water, Kaolin, Tin Oxide (CI 77861), Ultramarines (CI 77007), Iron Oxide Red (CI 77491), Helindone Pink CN (CI 73360), Manganese Violet (CI 77742), Tartrazine (CI 19140), Iron Oxide Black (CI 77499) #Dusty Lilac Talc, Synthetic Fluorphlogopite, Mica (CI 77019), Silica, Caprylic/Capric Triglyceride, Titanium Dioxide (CI 77891), Ultramarines (CI 77007), Magnesium Myristate, Magnesium Stearate, Macadamia Ternifolia Seed Oil, Dimethicone, Methyl Propanediol, Triethoxycaprylylsilane, Propanediol, Dimethiconol Stearate, Aluminum Dimyristate, Kaolin, Aluminum Hydroxide, Maltodextrin, Purified Water, Iron Oxide Black (CI 77499), Carmine (CI 75470), Iron Oxide Red (CI 77491), Iron Oxide Yellow, (CI 77492) #Sparkle Mauve Polyethylene Terephthalate, Bis-Diglyceryl Polyacyladipate-2, Polybutylene Terephthalate, Acrylates Copolymer, Polyglyceryl-2 Triisostearate, Ethylene/VA Copolymer, Calcium Aluminum Borosilicate, Diphenylsiloxy Phenyl Trimethicone, Bis-Behenyl/Isostearyl/Phytosteryl Dimer Dilinoleyl Dimer Dilinoleate, Magnesium Stearate, Methyl Propanediol, Phytosteryl/Isostearyl/Cetyl/Stearyl/Behenyl Dimer Dilinoleate, Diisostearyl Malate, Propanediol, Silica, Purified Water, Triethoxycaprylylsilane, Tin Oxide (CI 77861), Titanium Dioxide (CI 77891), Mica (CI 77019), Carmine (CI 75470), Iron Oxide Red (CI 77491), Ferric Ferrocyanide (CI 77510) #Aurora Glam Dimethicone, Synthetic Fluorphlogopite, Calcium Sodium Borosilicate, Calcium Aluminum Borosilicate, Methyl Methacrylate Crosspolymer, Calcium Titanium Borosilicate, Titanium Dioxide (CI 77891), Neopentyl Glycol Diheptanoate, Hexyl Laurate, Nylon-12, Dimethicone/Vinyl Dimethicone Crosspolymer, Diglyceryl Sebacate/Isopalmitate, Silica, Sorbitan Sesquiisostearate, Dipentaerythrityl Hexahydroxystearate/Hexastearate/Hexarosinate, Magnesium Myristate, Propanediol, Synthetic Wax, Tin Oxide (CI 77861), Phenoxyethanol, Mica (CI 77019), Iron Oxide Red (CI 77491), Carmine (CI 75470), Ferric Ferrocyanide (CI 77510) #Mauve Perfume Talc, Mica (CI 77019), Ultramarines (CI 77007), Titanium Dioxide (CI 77891), Silica, Octyldodecyl Stearoyl Stearate, Phenyl Trimethicone, Manganese Violet (CI 77742), Kaolin, Macadamia Ternifolia Seed Oil, Magnesium Myristate, Methyl Propanediol, Dipentaerythrityl Hexahydroxystearate/Hexastearate/Hexarosinate, Diisostearyl Malate, Caprylic/Capric Triglyceride, Dimethicone, Magnesium Stearate, Propanediol, Triethoxycaprylylsilane, Dimethiconol Stearate, Methicone, Lauroyl Lysine, Hydrogenated Lecithin, Aluminum Hydroxide, Purified Water, Iron Oxide Red (CI 77491), Helindone Pink CN (CI 73360), Iron Oxide Black (CI 77499), Iron Oxide Yellow, (CI 77492) #Rosemary Talc, Mica (CI 77019), Ultramarines (CI 77007), Titanium Dioxide (CI 77891), Silica, Boron Nitride, Manganese Violet (CI 77742), Octyldodecyl Stearoyl Stearate, Phenyl Trimethicone, Iron Oxide Red (CI 77491), Dimethicone, Macadamia Ternifolia Seed Oil, Shorea Robusta Seed Butter, Methyl Propanediol, Dipentaerythrityl Hexahydroxystearate/Hexastearate/Hexarosinate, Kaolin, Magnesium Myristate, Diisostearyl Malate, Magnesium Stearate, Propanediol, Aluminum Hydroxide, Methicone, Lauroyl Lysine, Triethoxycaprylylsilane, Purified Water, Iron Oxide Yellow, (CI 77492), Iron Oxide Black (CI 77499) #Midnight Talc, Mica (CI 77019), Iron Oxide Black (CI 77499), Silica, Octyldodecyl Stearoyl Stearate, Phenyl Trimethicone, Iron Oxide Red (CI 77491), Manganese Violet (CI 77742), Ultramarines (CI 77007), Iron Oxide Yellow, (CI 77492), Magnesium Myristate, Carmine (CI 75470), Dimethicone, Macadamia Ternifolia Seed Oil, Methyl Propanediol, Magnesium Stearate, Propanediol, Triethoxycaprylylsilane, Dimethiconol Stearate, Lauroyl Lysine, Kaolin, Maltodextrin, Aluminum Hydroxide, Methicone, Purified Water, Titanium Dioxide (CI 77891), Helindone Pink CN (CI 73360